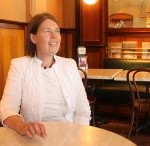 Principal, Mary Sherborne, ran her own law firm for 12 years, and worked in the Commonwealth public service for 10 years.
Mary has an Associate Diploma in Speech and Drama teaching and is a member of the WA Association of Speech and Drama Teachers. She has experience in teaching adults, seniors and children.  

Mary has extensive practical experience as a trainer and in spoken voice work, including:
talks and technical presentations
debating
interviews
powerpoint presentations
radio work
entertainment.
Services
accent improvement training
presentation skills
spoken voice technique
conversation practice
poetry and drama classes
for all age groups.
One-off sessions or short courses
Individualised one-on-one training
Group classes
Online training modules
For more information, contact Mary:
Phone: 0477 056 166
Email: mary@peakspeech.com.au